DEEP IN KUMAON
8 Nights / 9 Days
Kathgodam - Nainital (2) – Kausani (1) – Chakouri (2) – Munsyari (2) – Almora (1) - Kathgodam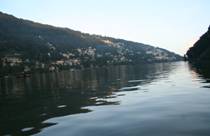 Nainital is a glittering jewel in the Himalayan necklace, blessed with scenic natural splendor and varied natural resources. Dotted with lakes , Nainital has earned the epithet of 'Lake District' of India. The most prominent of the lakes is Naini lake ringed by hills . Nainital has a varied topography. Some of the important places in the district are Nainital, Haldwani, Kaladhungi, Ramnagar, Bhowali, Ramgarh, Mukteshwar, Bhimtal, Sattal and Naukuchiatal. Nainital's unending expense of scenic beauty is nothing short of a romance with awe-inspiring and pristine Mother nature.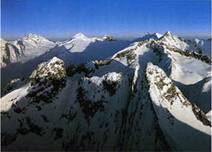 Kausani is frequented by tourists for the panoramic views of the Himalayas. It offers excellent sightings of the Trisul (7,120m), Nanda Devi (7,816m) and the Panchchuli (6,904m). Frozen in time, this backdrop makes Kausani the perfect place for a holiday with the family. Kumaon at its best.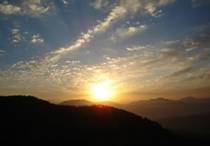 Chaukori The small hill town affords balmy weather and great views of snowclad peaks. The entire area teems with tea gardens and orchards. It is 112 km from Pithoragarh via Gangolihat and Berinag.
Munsiyari is situated at a di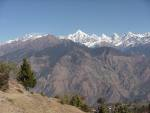 stance of about 62 kms from Jauljibi via Madkot 120 kms from Pithoragarh via Thal-Tejam Kalamuni and 207 kms from Almora via TakuIa-Bageshwar and Thal along the same routes. On both the routes the traveller can see many water falls coming down to Gori and Ramganga. Besides housing the tehsil headquarters, Munsiyari is the centre as well as the gate way of the Johar region. The whole Johari Population of Munsiyari would migrate to their summer settlements to engage in trade with the advent of spring. Although, Johars still deal in woollens and herbs, there are a number of Johars who have turned to agriculture and horticulture. Nonetheless they all are confined to Munsiyari alone.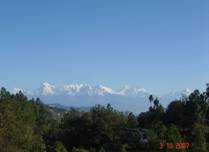 Almora a picturesque district in the Kumaun region, East of Uttarakhand in India, with a breathtaking panoramic view of Himalayas, summons tourists worldwide to its alluring grandeur of natural beauty. Famous for its rich cultural heritage, unique handicrafts, sumptuous cuisine and magnificent wildlife, coupled with an easy accessibility, Almora promises its tourists a visit full of fun and unforgettable moments.
Itinerary
Day 01 – Kthgodam – Nainital (40 kms. / 1 hr.) : Transfer from Kathgodam to Nainital. Sight seeing of Nainital. boating in Naini lake and visit to the holy Naina Devi temple , Naina peak, Snow view (cable car), Lands End etc. evening enjoy walk on mall. Overnight at Nainital.

Day 02 - Nainital: local sightseeing followed by trip to Bhimtal, Naukuchiatal & Sattal. Boating is available here. Overnight at Nainital.

Day 03 – Nainital – Kausani (115 kms. / 04 hrs.) : Transfer to kausani. Evening relax. Overnight at hotel in Kausani.
Day 04 – Kausani – Chakouri (90 kms. / 03 hrs.) : Get up early to enjoy breathtaking views of the Himalayas (can become hazy later). Later transfer to Chakouri via Bageshwar. Ancient temples at Bageshwar. Overnight at Chakouri.
Day 05 - Chakouri : Morning enjoy Himalayan views from chakouri and later visit Patal Bhubneshwar (36 kms, 1 hour). Overnight at Chakouri.
Day 06 – Chaukori – Munsyari (100 kms, / 4 hrs.) : Morning Transfer to Munsyari. At Munsyari you come very close to the Himalayas. Breathtaking views all around. Overnight at Munsyari.
Day 07 – Munsyari : Local sightseeing / trekking. Overnight at Munsyari.
Day 08 – Munsiyari – Almora (210 kms, / 9 hrs.) : Morning transfer to Amora. Arrive late afternoon. Some local sightseeing or relax at the resort. Overnight at Almora
Day 09 – Almora to Kathgodam (90 kms. / 3 hrs.) : Morning visit Binsar sanctuary and later transfer to Kathgodam for onward journey. Drop at Kathgodam.
---
More Itineraries