OFF – BEAT KUMAON
6 Nights / 7 Days
Kathgodam - Mukteshwar (2N) - Binsar (1N) - Chaukori (2N) - Kausani (1N) – Kathgodam

MUKTESHWAR : At a distance of 52 km. from Nainital, Mukteshwar set atop a high ridge, is a beautiful Himalayan resort. Surrounded by fruit orchards and thick coniferous forest, it provides a majestic view of the Himalayas and the Almora town below in glittering moonlit nights. The famous Indian Veterinary Research Institute is also located here.
BINSAR : Binsar hill, locally known as Jhandi Dhar, rises t

o a height of 2,412 meters and offers a panoramic view of Almora town,Binsar, is an hour' s motor drive from Almora,the Kumaon hills and the Greater Himalayas. The region around in alpine flora, ferns, hanging moss and innumerable species of wild flowers. The brow is reached by an unpaved ridge lined by prosperous private estate. A walk through the woods comprising mostly oak and rhododendron forest, leads to a vantage point at the summit, which offers an uncluttered view of the Himalayan ranges and the surrounding valley. Hindi poet Ajneya treated it as a famous summer spot.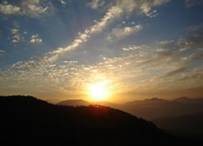 CHAUKORI : Chaukori: The small hill town affords balmy weather and great views of snowclad peaks. The entire area teems with tea gardens and orchards. It is 112 km from Pithoragarh via Gangolihat and Berinag.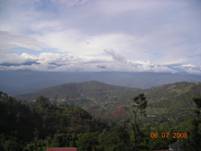 KAUSANI : Standing 1890 mts. above the sea level, Kausani is nature's own reserve. Even the father of the nation, Mahatma Gandhi had contemplated on the beauty of the region. Several snow- capped peaks stand in a stately row, over 300 kms. in length, shining against the azure sky making the horizon as seen from Kausani and enviable spectacle. The glory of the snow crowned Himalayan range reaches its pinnacle when the sunrays turn them into crimson and gold.
Itinerary:
Day 01 - Kathgodam – Mukteshwar (70 kms. / 2.5 hrs.) : Arrival at Kathgodam & depart to Mukteshwar. After fresh up sight seeing. Overnight stay.
Day 02 - Mukteshwar : Sight seeings / Adventure activities. Overnight stay.
Day 03 - Mukteshwar - Binsar (80 kms. / 2.5 hrs.) : After break fast proceed to Binsar via Kwarab & Almora. After reaching at Binsar trek to Jhandi – Top. Overnight stay.
Day 04 - Binsar - Chakouri (185 kms. / 07 hrs.) : Get up early to enjoy breathtaking views of the Himalayas (can become hazy later). Later transfer to Chakouri via Jageshwar . Ancient temples at Jageshwar. Overnight at stay.
Day 05 - Chaukori : Morning enjoy Himalayan views from chakouri and later visit Patal Bhubneshwar (36 kms, 1 hour). Overnight at stay.
Day 06 - Chaukori – Kausani (90 kms. / 3 hrs.) : Morning start from Chaukori to Kausani via Bageshwar. Kausani standing 1890 mts. above the sea level, Kausani is nature's own reserve. You can enjoy the breathtaking views of the Himalayas and serve as the romantic gateways. Over night stay.
Day 07 - Kausani – Kathgodam (140 kms. / 4 hrs.) : Way back start from Kausani to Kathgodam, one the way Almora town can be visit. Drop at Kathgodam.
More Itineraries